A salvo from the main guns of the New Jersey (BB-62), 1944


forward Turret 1 and the barrels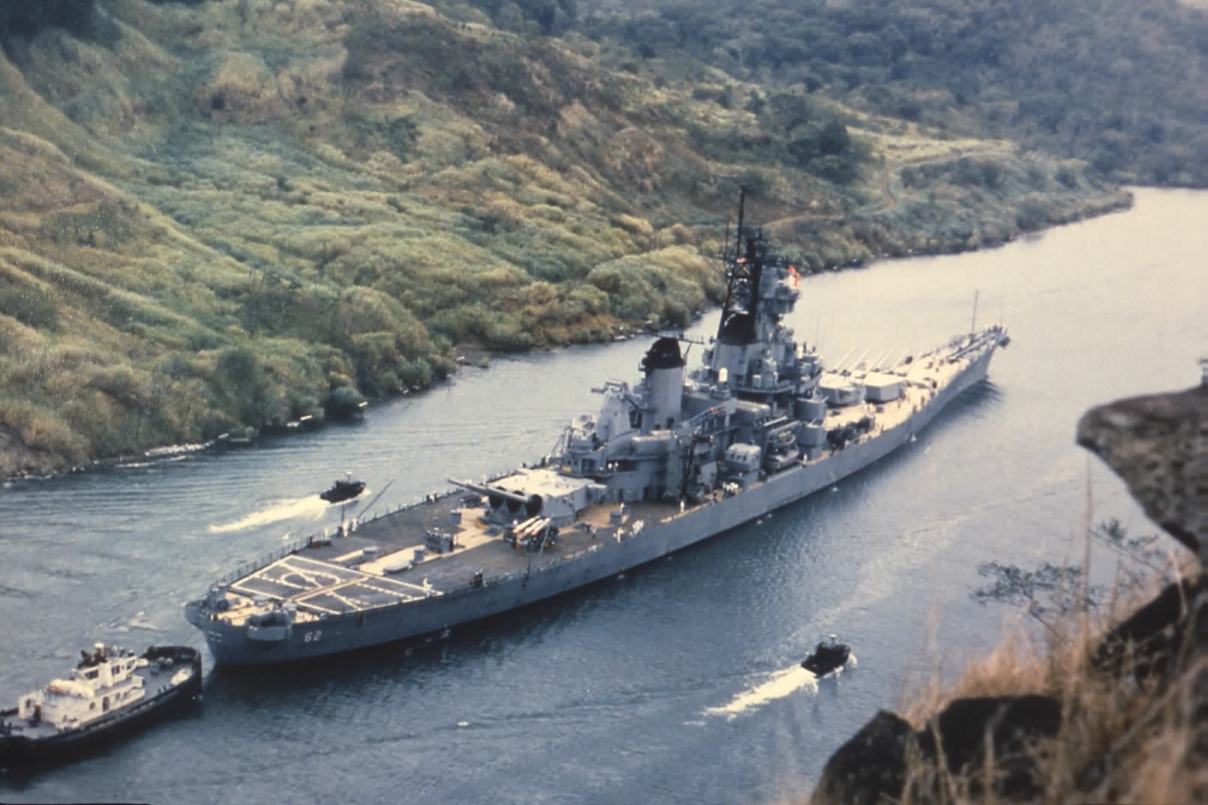 August 6, 1984: USS New Jersey in the Panama Canal.


Reserve fleet and museum ship
The USS NEW JERSEY (BB-62) fire a six gun salvo of 16 inch shell into enemy troop concentration near Kaesong, Korea.
President Ronald Reagan's "600-ship Navy" plan called for the reactivation, modernization, and recommissioning of all four Iowa class battleships. Here, Reagan (below the "New Jersey" sign, to the extreme right) speaks at New Jersey's recommissioning ceremony.
The New Jersey (BB-62) fires broadside during bombardment operations against enemy targets in Korea, adjacent to the 38th parallel. Photo is dated 10 November 1951. Smoke from shell explosions is visible ashore, in the upper left.
Battleship New Jersey's superstructure
Battleship New Jersey's bridge
View out of the bridge window aboard New Jersey
Battleship New Jersey's bunks, 14 Jun 2004
Bombarding enemy targets near Tuyho, on South Vietnam's central coast, during her last line period, late in March 1969.
New Jersey's secondary gun turrets
Captain's chair aboard New Jersey

A stern view of the battleship USS NEW JERSEY (BB-62) in drydock. The ship is undergoing refitting and reactivation
United States Navy USS New Jersey (BB-62) ("Big J" or "Black Dragon") is an Iowa-class fast battleship
specification
Displacement: 45,000 tons
dimensions
Length: 887 feet 7 in
Beam: 108.2 feet
Draft: 28.9 feet
Speed: 33 knots (61 km/h)
Complement: 1,921 officers and men
Armament: 1943:
9 x 16 inch (406 mm) 50 cal. Mark 7 guns
20 × 5 inch (127 mm) 38 cal. Mark 12 guns
80 x 40 mm 56 cal. aa guns
49 x 20 mm 70 cal. anti-aircraft guns
Armor: Belt: 12.1 in (307 mm)
Bulkheads: 11.3 in (287 mm)
Barbettes: 11.6 to 17.3 in (295 to 439 mm)
Turrets: 19.7 in (500 mm)
Decks: 7.5 in (190 mm)
Aircraft carried: 1943:
2 catapults
3 Vought OS2U Kingfisher Floatplanes
1982:
Deck for up to 4 Helicopters